Get familiar with our community ed and trash club initiatives below!
Hub Community Education
The Hub offers regular classes to the community on bike-related topics, including bike commuting, bike maintenance, transportation issues, and more. Classes are offered for free (donations are gladly accepted), though we do request you register in advance to participate (just send us an email to let us know you're interested). Please see below for our current class schedule – classes are currently offered once each month.
Basic Bike Maintenance (01/10, 6:00-7:30pm) – Learn how to perform basic bike maintenance, including fixing a flat, adjusting your brakes and shifting, and cleaning and lubricating your drivetrain.
Photos coming soon!
---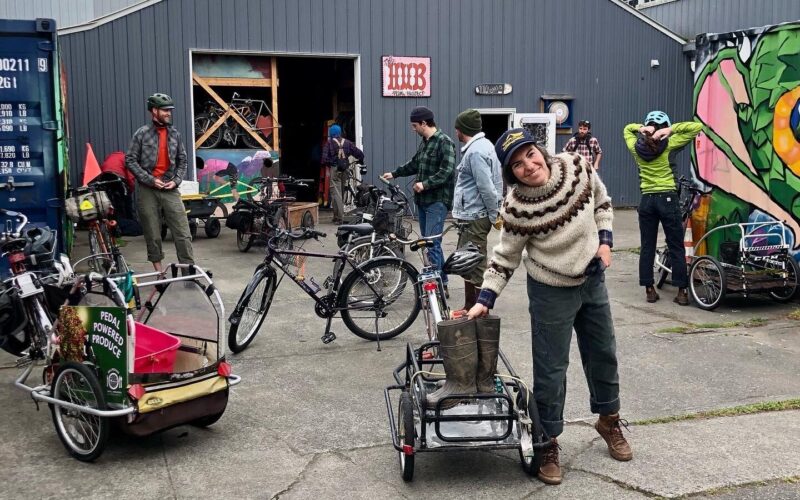 Trash Club
Trash Club practices bike-powered land stewardship in Bellingham, WA. Trash Club has removed over 30 tons of trash from Whatcom Creek since July 2021!
Trash Club meets on the first Sunday of each month from 1-4pm at 110 Ohio St to clean up litter along Whatcom Creek. All are welcome. Please join us and help take care of Whatcom Creek!
NEXT TRASH CLUB: SUNDAY, JANUARY 7TH, 1PM
Bring work gloves and wear good work shoes. Dress for the weather and bring a water bottle. Arriving by bike or other alternative transportation is encouraged, but a bike is not necessary to participate. Bonus points for bringing your own bucket, grabber, and/or bike trailer! Each trash mission is different, providing unique opportunities to help make our city greener, reduce waste in our ecosystems, exercise our muscles, and discuss trash topics.
Questions? Email Matt for more info.